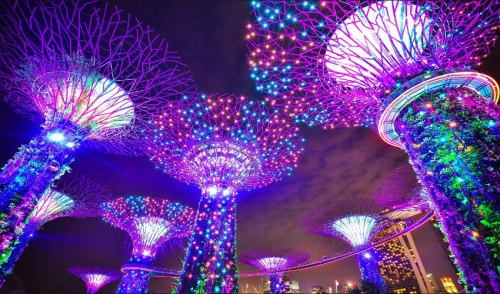 Twinkling lights are a key part of holiday decorations, and it can be tempting to add extra lights to your display to be more festive every year. Unfortunately, more isn't always merrier with holiday lights, and an overdone display can quickly look tacky and jumbled. With a few easy tricks, however, you can have stunning holiday lights done right.
Before You Begin
Before you plan an outstanding holiday light display, check with local community organizations or governing bodies about outdoor decoration restrictions. Some homeowner associations or municipal guidelines may regulate the color, number or type of holiday lights that can be displayed on the exterior of a home. Some decorations, such as wooden or inflatable displays, may not be permitted, or displays that include music or could be distracting to drivers could be prohibited. Come communities may also restrict the hours or dates when lights can be in operation. No matter how well planned your display may be, if you don't abide by community restrictions you could face fines, reprimands or other penalties that make your holiday much less festive.
Safety First
Once you understand what restrictions may apply to your holiday lights, you must consider safety. Poorly done light displays can spark devastating fires, and it is critical to inspect all light strands, cords and lighted items to be sure there are no frays, breaks or bare wires. Plugs should work safely, and fuses or circuit breakers should be appropriate for the display. Do not connect too many strands together or overload an outlet with too many plugs. Furthermore, look beyond just the lights for potential safety hazards, such as icy roofs that may be difficult to access while decorating. Use safe, non-damaging methods to attach lights to your home to avoid problems with leaks, pests or other difficulties in other seasons.
Tips to Do Your Holiday Lights Right
The definition of the "right" holiday light display is different for everyone, and everyone has a different idea of what makes a holiday display beautiful and festive. No matter what look you prefer, these tips can give your holiday lights a polished, professional appearance to be enjoyed all season long.
Design Your Display
Plan your holiday lights carefully, choosing the overall look you want to present and how you hope to achieve it. Consider an overall theme, the spacing of the lights and different parts of your display and how the lights are oriented for the best viewing.


Measure Carefully
Consider the lighted length of different strands when calculating how many lights you need. Measure roofs, gutters, doors, windows and railings carefully to be sure you have enough lights to create the look you want without bare spots or dark gaps.


Create a Focal Point
Draw visitors' eyes to a central point of your display, whether it is your home's entrance, unique architecture, a manger scene, a favorite flowerbed or another outstanding accent you want to highlight. Concentrate lights there and work out to the sides to stay balanced.


Keep Styles Consistent
While you can use 2-3 different types of lights in your display, avoid too many mismatched styles, sizes or colors. A display with fewer light styles looks more elegant and uniform, instead of using clashing colors and styles of lights on every part of the display.


Be Thorough
Be thorough with how you spread your lights. If your home has several front-facing windows, for example, outline all of them with lights instead of just one. Similarly, balance lights in the yard instead of wrapping only one bush out of many.


Be Tight and Firm
Nothing drags a holiday light display down faster than sagging strands that wiggle and fall. Use enough clips, hooks or other attachment methods to keep strands taut and firmly placed so your display will always look neat, even after a storm or high winds.


Check All the Angles
Once you have your display arranged, check how the lights appear from all viewing angles, including different sidewalks and driving down the street to be sure it looks its best no matter where visitors may be looking from. This is especially important with corner displays.


Keep It Lit
Of course you checked every strand and bulb as you assembled your lights, but bulbs can burn out during the season or plugs may loosen and suddenly part – or all – of your display goes dark. Check the display daily to be sure it is fully functioning and still looks great.
No matter what holiday light display you want to have, doing it right means designing it carefully and assembling it thoughtfully so it will look its best throughout the festive season. If you do that, your holiday lights will bring seasonal cheer to all who see them.